Masterart Professional Grade Large Format Canvases with 14oz 100% cotton canvas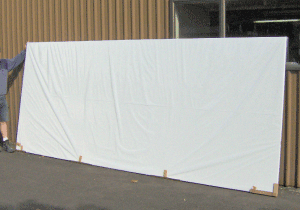 FEATURES
30 mm deep radiata pine interlocking stretcher bars
14oz (450 gsm) pre-primed 100% cotton canvas
medium/coarse weave

Masterart Professional Large Format Canvases. Utilise Masterart Heavy Duty 30mm deep kiln dried radiata pine interlocking stretcher bars, each frame is hand made with optimal bracing to ensure there is limited chances of warping. Masterart Large Format canvases are custom made to suit each individual artists requirements and offer additional options including utilising Masterart SE45 42 mm X 60 mm laminated stretcher bars for additional strength.
Hand stretched with our unique pre-primed 450 gsm (14 oz) pre-primed 100% cotton canvas for those artists that are wanting a strong canvas that has medium to coarse non-uniform weave. Masterart Professional Grade Canvases are suited for all professional artist applications.

Looking for a size not listed? Masterart will make any size canvas you want.