Lightweight (19 mm) Pre-made Stretcher Frames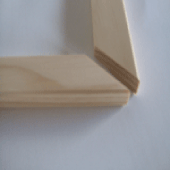 FEATURES

Masterart Lightweight Pre-made stretcher frames Are ideal for stretching smaller paintings and prints, especially when the finished work is to be framed.
Made from 19 mm deep by 40 mm stretcher bar molding, these frames are miter cut, glued and underpinned - ready to use without the need for assembly or ensuring they are sqaure.




Looking for a size not listed? Masterart will make any size stretcher bars you want.